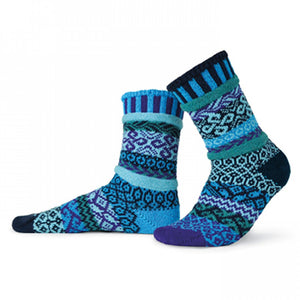 Life's too short for matching socks!  It's time to spice up the sock drawer.  These whimsical & mismatched socks are the perfect way to celebrate color in everyday life.  Wear with love and a smile!
Proudly crafted with care and made in the USA from recycled cotton.   Machine wash, gentle.  Dry on cool.  62% Cotton, 22% Polyester, 15% Nylon, 1% Lycra
Inspired by the elements of the world, our Water socks bring refreshing vibes that are sure to inspire a calming and cool presence to everyone. Colors in this sock: Turquoise, Purple, Jade, Navy Blue & Blue-Green.
Size Small (Women's 6-8, Men's 5-7)
Medium (Women's 8-10, Men's 7-9)
Large (Women's 10-12, Men's 9-11)